(Italiano) I AM THE WATCH È UN NUOVO MODO DI VIVERE IL TEMPO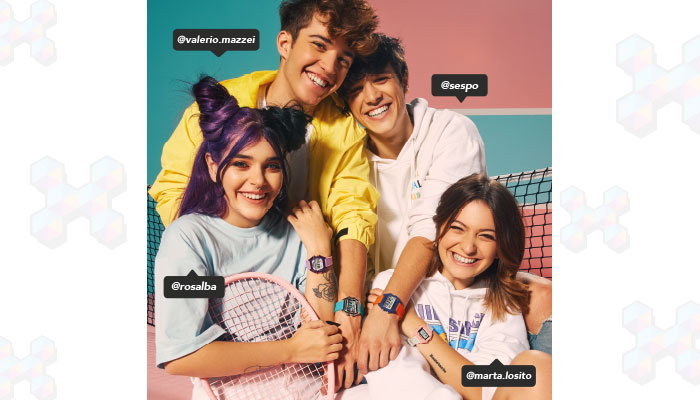 Con gli orologi I AM THE WATCH è semplicissimo lanciare nuove tendenze da condividere con amici e follower
L'evoluzione dell'orologio digitale si chiama I AM THE WATCH. Colori pop e design anni 90 non passano inosservati e scandiscono il ritmo di chi vuole portare energia positiva nella propria vita.
I AM THE WATCH è l'orologio must have per dare voce alla propria personalità, è l'accessorio più cliccato del web, è il segno di riconoscimento di una nuova tribù giovane e dinamica. Nelle classi dei licei, sui banchi di università, nelle serate in compagnia, i fashion addicted di tutto il mondo reinventano il proprio stile grazie alle moltissime varianti di cinturini intercambiabili.
Proposti in due misure, gli orologi I AM THE WATCH si trasformano ogni giorno, semplicemente sostituendo il cinturino in silicone e inventandosi nuovi meravigliosi abbinamenti di colore. E allora, spazio alla creatività perché lanciare una nuova tendenza è un gioco da ragazzi.
Le collezioni si arricchiscono di casse soft-touch per una vera esperienza sensoriale: l'effetto morbido e vellutato rende ogni proposta irresistibile. I cinturini glitter luccicano a ogni movimento. Per diventare shiny happy people, ci vogliono solo pochi secondi!
Chi indossa I AM THE WATCH non ha paura di immergersi nel colore, non teme il tempo che passa, non vede l'ora di condividere il proprio stile con gli amici e i follower. I nuovi orologi sono diventati virali sul web anche grazie a main ambassador come @sespo, a cui si aggiungono @rosalba, @valerio.mazzei e @marta.losito, per un totale di cinque milioni di follower su Instagram e 4 milioni su YouTube.
I AM THE WATCH è una nuova dimensione di stile che cambia velocemente, anche più volte al giorno, per avere sempre nuove immagini da postare sui social.