OROLOGICI ANALOGICI E DIGITALI TUTTI AL -25%: SUPER SPRING SELECTION IAM THE WATCH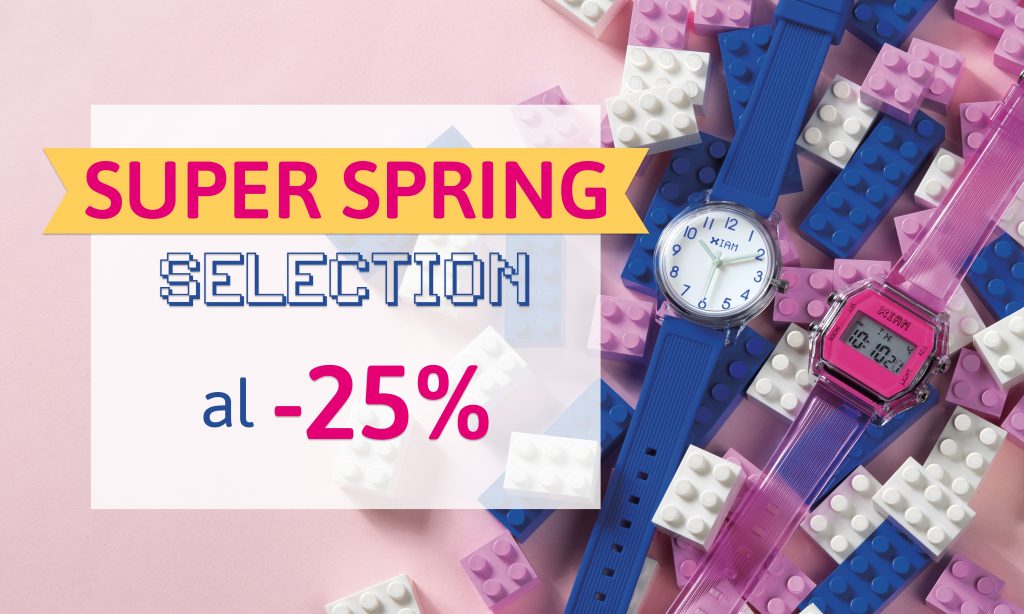 Il sole che risplende in cielo, le giornate che si allungano, questo vuol dire solo una cosa: siamo nel pieno della primavera che, tra un po', farà spazio alla calda stagione dell'estate.
Maggio è da sempre un mese colorato e allegro per la new generation. La scuola sta per finire e sta per iniziare quel fantastico periodo in cui si ha più tempo per stare ed uscire con gli amici e godersi le giornate in maniera spensierata. Che si preferisca il mare, la montagna, oppure semplicemente un giro in centro con la compagnia giusta, una cosa non deve assolutamente mancare: il tuo stile!
Tieni il tempo e dai colore e vita al tuo stile con l'accessorio perfetto per la fine della primavera e in vista dell'estate: scegli di indossare l'orologio IAM THE WATCH.
Solo per il mese di Maggio Iam ha realizzato un'esclusiva e speciale selezione di orologi analogici e digitali tutti scontati al -25%!
Dal 1 al 31 maggio arriva infatti la Super Spring Selection Iam the Watch: 10 orologi analogici e 10 orologi digitali ad un prezzo imperdibile. La selezione è stata pensata proprio per dar luce ad un look ed uno stile fresco, dinamico e primaverile. Sono stati scelti per l'occasione orologi dai colori accesi e brillanti, per un tocco finale allo stile di chiunque non voglia passare inosservato.
Tra gli orologi della Super Spring Selection troverai:
OROLOGIO DIGITALE IAM CASSA M – Cassa giallo fluo con cinturino trasparente azzurro;
OROLOGIO DIGITALE IAM CASSA L – Cassa bicolor giallo e arancio con cinturino silicone giallo;
OROLOGIO ANALOGICO IAM CASSA M – Cassa e cinturino verde acqua, quadrante bianco con dettagli verde acqua;
OROLOGIO ANALOGICO IAM CASSA L – Cassa azzurra, quadrante bianco con dettagli blu, cinturino arancione.
Che aspetti? Corri a scoprire l'intera selezione e scegli l'orologio digitale o analogico IAM THE WATCH per dar colore al tuo stile!